What is the Difference Between Internal and External Backlinks?
An internal link helps users navigate your website. This increases the user experience and increases sales. However, internal links are not as powerful as external links. They increase the authority of your website and help spread the ranking power of your website. For example, if your content is ranked on the first page, you can expect more organic traffic from other websites with internal links.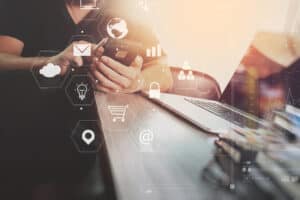 (Looking for a full SEO services firm? Contact us today!)

Internal links help Google find your site
Internal links help Google find your site and improve your ranking. Internal links are links from one page to another on your site. The more high-quality and high-ranking your internal pages are, the more SEO juice they pass along to other pages. A high-ranking page passes link juice to lower-ranking pages through internal links. 
Internal links provide your pages with energy and help Google categorize them. This helps your page appear high in the SERPs. They help Google better understand each page and determine its value. 
External links increase the authority
Getting relevant external links to your website is an important factor in increasing domain authority and SEO rankings. The power of an external link is determined by the anchor text used and the domain authority of the website that is linking to yours. External links from high-ranking and authoritative websites are much better for SEO. While getting external links from low-ranking sites is also helpful, they can hurt your domain authority. 
When obtaining external links, remember to include relevant industry websites. For example, if you're a donut seller, you'll want to focus on websites related to your niche. These sites will have more authority than those that aren't relevant to your niche. Also, relevant industry websites are more likely to drive traffic to your website. 
They make your content more visible to crawlers
To rank well in search engine results, your content needs to be backed by internal and external links. The best way to accomplish this is to link your content to other relevant pages within your website. However, this strategy can sometimes have negative effects on the user experience. Instead, use contextual internal links, embedded in blog posts or other content on your site. Another option is to include a Related Posts section, which displays related blog posts on a single page. In this way, users can discover related information more easily. 
Internal links are beneficial for the website as they guide readers throughout the content of the website. They also encourage visitors to stay on your website longer by presenting them with natural transitions from one section to another. Internal links also improve the crawlability of your content. 
They improve user experience
Internal and external backlinks play important roles in search engine optimization and user experience. Internal links direct users to related pages within the same domain, while external links point to content outside the domain. In both cases, the purpose is to improve the user experience. External links typically point to persuasive articles or content that further supports the credibility of a page. 
For this reason, external links should be differentiated from internal links. For instance, Wikipedia uses an icon to distinguish them. However, this icon is not always clearly understandable by all users. Furthermore, the user should be able to click on an external link in the same window as the current page. If the user is confused by the format of the link, he can simply click on the back button to return to the previous page.